A kitchen update can present an overwhelming number of options. What countertop material is best? Should we go with a single- or double-bowl sink? Will we regret repainting the walls in a color other than white?
If you plan to sell your home soon, these concerns could become paramount. Not only do you have to think about what you like in a kitchen—you also have to deliberate over potential homebuyers' preferences.
Lately, we've noticed a number of kitchen design trends that are creative enough to satisfy owners but versatile enough for a range of would-be buyers. From streamlined appliances to an unexpected color for cabinets and fixtures, these looks can modernize a home and improve its efficiency—two qualities that are very attractive to house shoppers.
"The kitchen is one of the rooms that can have the biggest impact on a home's value," says Keely Smith, lead interior designer at JD Elite interiors in North Vancouver, BC. "If you're planning to sell soon, it's worth considering some of the design trends that we'll see this spring—and beyond."
Here's a look at how to give your kitchen a little practical panache.
1. Natural wood cabinets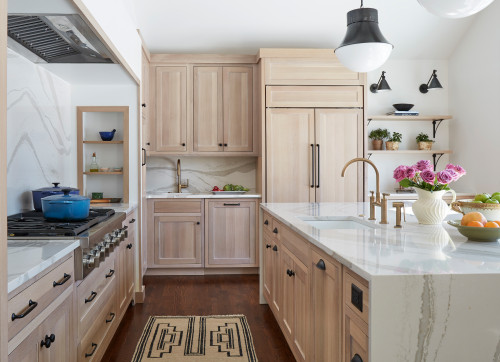 Photo by Great Rooms Designers & Builders
White cabinets have always been a dominant (and safe) choice among homeowners tackling a kitchen renovation, but we're seeing a shift this season toward a truer wood aesthetic.
"Natural wood tones have become increasingly popular, because they create a beautiful, earthy feel," says Carla Bast, an interior designer from Minneapolis.
Walnut or white oak cabinets add character and texture to a kitchen in ways painted cabinets never could. Plus, these tones work well with many design styles, from midcentury modern to Japandi.
But don't expect to see the same wood tones that were everywhere a few decades ago.
"Oak is back but looks a bit different than it did in recent years," says Bast. "The oak of today is not an orangey-red oak we saw in the 1990s; it's cooler in tone."
2. Smart kitchens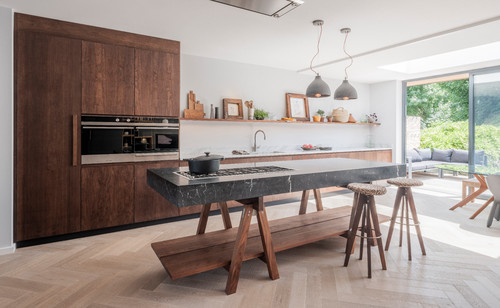 Smart-home technology has become increasingly prevalent. Traditional doorbells, lighting, and security systems are being replaced by voice- and app-controlled versions of these features.
And the same technologies are popping up in kitchens now, too. We're seeing it in voice-activated faucets, refrigerators with built-in cameras, and app-operated appliances.
"These smart features can make the kitchen more efficient and user-friendly," says Smith. "This is a huge selling point for potential buyers."
If you want to integrate smart technology into your kitchen but feel overwhelmed, start small. For example, install smart LED lightbulbs, so you can turn on the lights before you even set foot in the kitchen.
3. Streamlined appliances
Brooke Lang, principal designer and owner of Brooke Lang Design in Chicago, shares that streamlined appliances are currently one of the most coveted home upgrades.
"Instead of large appliance garages housing multiple small appliances, we are seeing new all-in-one technology, such as five-in-one ovens," Lang notes.
Most five-in-one ovens harness the capabilities of a convection oven, warming/proofing drawer, microwave, speed-cooking oven, and toaster. These appliances can create a less cluttered look, which is especially useful for those with smaller kitchens.
"Streamlining appliances can free up space on the kitchen counter for prepping and serving food," Lang says.
4. Black finishes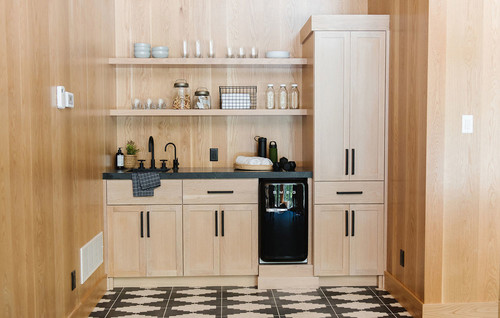 Over the last several years, we've touted the popularity of black color choices in home decor, from bedroom walls to home exteriors. Now, more than ever, homeowners are embracing chic black finishes on sinks, appliances, light fixtures, and even range hoods.
"The black interior gives an ultraluxe look and hides dirt, wear, and stains better than white or light-colored counterparts," says Jessica Sommer, vice president of Wedgewood Homes and Maverick Design in Redondo Beach, CA.
5. Workstation sinks
Adding a large workstation sink is an easy way to help nudge your home's asking price upward.
"This is more than just a bigger sink," says Ally Maloney Winzer, principal designer at Maloney Interiors in Newport, RI. "Rather, they are multifunctional stations with cutting board attachments, drain boards, and tons of space."
Some workstation sinks even feature two faucets and mixing bowl and colander attachments.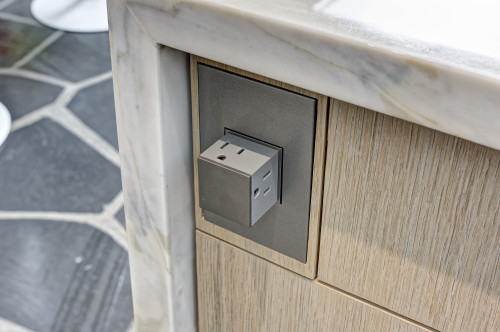 In keeping with the efficiency theme, hidden kitchen outlets are gaining popularity.
And Lang confirms, it's a detail more clients are requesting .
"Instead of visually breaking up a beautiful backsplash, we utilize outlet strips that can recess into countertops and pull out when needed," she says.
This helps create a sleek, polished look in the kitchen.
Realtor.com